In recent years, artificial intelligence (AI) has turned marketing on its head, opening up new opportunities for companies to optimize their marketing strategies. The impact of current AI developments is currently on the minds of almost everyone. In this regard, the international company Deloitte, which represents one of the largest global players within the business sector, conducted the "State of AI in the Enterprise Survey – 5th Edition". In this survey, 2,620 AI experts worldwide provided insight into the current status of the development of artificial intelligence in their companies. The AI market continues to evolve rapidly, and 94 percent of global respondents agreed that this technology is important to the future of their organizations. Artificial intelligence has enormous implications that humans are barely able to gauge the scale of:
From personalizing content to automating tasks, for example, AI has the potential to make marketing campaigns more effective and efficient. In this post, we explore five impacts of AI on marketing and how companies can take advantage of the shift in incorporating artificial intelligence.
What are the impacts that are making themselves felt? Do they represent a curse or a blessing in the marketing space of many companies?
1. Personalization through AI
Content personalization plays a relevant role in marketing. AI can help create personalized content based on the user's interests and preferences. AI can use data from previous interactions with the brand to make recommendations and create personalized campaigns based on relevant individual needs and preferences of each customer. This leads to higher customer engagement, increased customer activity, and a better customer experience.
Concrete examples that make personalization even more successful in marketing thanks to AI are personalized advertising, personalized app content or email marketing. Great potential can be exploited by integrating AI into these processes. The collected data, on the basis of which the offers corresponding to the needs are created, plays an essential role – since AI efficiently achieves the main goal of strengthening customer loyalty.
 2. Data analysis of the future with AI
Improved data analysis through artificial intelligence – AI can help analyze large volumes of data and provide key insights that are critical for marketing. With the ability to identify patterns and trends in big data, marketers can gain valuable insights into their customers' behavior, weigh trends and developments, and adjust their marketing strategies accordingly. This is therefore significant, as detailed AI analysis can provide a distinct competitive advantage.
Using AI, data analysis can be automated and tasks that were previously time-consuming and repetitive for employees can now be completed by AI in a fraction of the time. This saves time and increases the efficiency of processes. However, relevant factors that still need to be considered within this impact of AI on marketing must not be neglected: Trustworthiness, transparency, technology openness and legal certainty!
3. Increased efficiency through automation
Another impact is represented by the automation of tasks. AI, as mentioned above, can automate tasks that normally require a lot of time and effort, such as creating reports or monitoring campaigns.
These manual processes are made efficient through automation, saving marketers valuable time and allowing them to focus on more strategic tasks. After all, time means money and the key in marketing is not to "spend" time, but to invest it!
4. AI-driven ad placement.
Using a smart AI solution can have a big impact on a company's ad success in the future and bring about more effective ad placement. AI can help optimize ad placements by analyzing user behavior and selecting ads based on their interests and preferences. This leads to higher click-through rates and an improved return on investment for the marketing budget.
5. Revolution – predicting customer behavior
More and more companies are tending to use AI, especially in digital marketing. Currently, however, there is still a great deal of untapped potential in this area. However, this will certainly change in the future, because in order to continue to operate successfully in the market, companies need to become customer-centric and data-driven. Artificial intelligence can help anticipate customer behavior by analyzing data from previous interactions and transactions and automating it through learning algorithms. By predicting customer behavior, marketers can create personalized offers and adjust their marketing campaigns accordingly to achieve better results. Targeted marketing means customer-centric action and accurate understanding – so in conclusion, the more insight is possible through optimal use of available resources via AI, the more likely sustainable business success will be generated.
Conclusion
Overall, AI has the potential to revolutionize marketing and help companies optimize their marketing strategies. From personalizing content to automating tasks, there are many ways AI can improve marketing. Companies that choose to use AI in marketing can gain valuable insights and create more effective campaigns to achieve their business goals. So, in summary: AI delivers a competitive advantage and signifies a promising future in marketing for businesses. It is also a fact that artificial intelligence has no limit and will insidiously influence all areas of our daily lives from now on.
About the author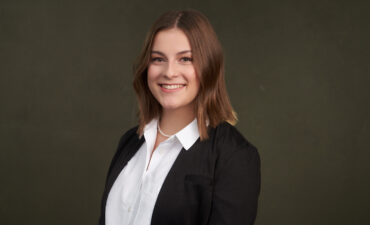 Communication Advisor at HBI  Communication Helga Bailey GmbH
Elena Sauter has been supporting HBI in the areas of PR and marketing since 2022.
As a Communication Advisor, her responsibilities include the creation of professional articles & the conceptualization of social media postings. Furthermore, Elena is involved in directly assisting our client work.