"One Ring to rule them all. One Ring to find them. One Ring to bring them all, and in the darkness bind them." Whereas third party cookies might not be quite as bad as the legendary ring from Lord of the Rings, with a little imagination, a few parallels can be found, though, in users leaving their digital footprints behind. Third-party cookies track their behavior on the internet and create personalized user profiles based on the collected data. Although they represent an important tool for customer loyalty and one of the most effective instruments of digital marketing, they are meanwhile considered more critical than ever. For many years, advertisers have relied on this method to make personalized suggestions to users, who would find them practical as well. When personalized ads help users find gifts and website operators build customer loyalty. However, users have become more and more concerned about with whom and to what extent their data is shared.
Web browsers such as Safari and Firefox have therefore decided to remove third-party tracking cookies. While this is a win in terms of data protection, it deprives advertisers of an important tool, as the browsers have failed to come up with an alternative so far. The seriousness of the situation becomes clearer, when taking a look at Google, which is also planning to let third-party cookies expire over a period of three months starting from mid-2023.
To stick with my analogy: the journey of the last third-party cookies to Mount Doom has begun and leaves us to wonder: what will the advertising world look like without them?
All for one: Data protection compliant with FloC and FLEDGE
Contextual targeting was a well-proven method before the introduction of third-party cookies and returned to the discussion after the introduction of the GDPR. Advertisers can rejoice however, because Google has announced its Plan B: the so-called Privacy Sandbox. A declaration by Google reads: "Our goal for this open-source initiative is to make the web more private and secure for users while supporting publishers". The Privacy Sandbox is an alternative designed to allow the advertising industry to profit from users' browsing habits even without cookies. To this end, Google has introduced two approaches: FLEDGE and FloC.
First Locally Executed Decision over Groups Experiment (FLEDGE). Sounds complicated but the principle is quite simple: this approach is an in-browser API that makes it possible to continue retargeting specific interest groups. The goal is to be able to show advertisements to former visitors of one's own website while they are currently surfing on other websites. Cross-site tracking is not used, which protects user privacy. The keyword in this context is "interest group". Not the data of a specific user is collected but of a whole user group. Retargeting would hence present a possibility again but what about targeting new customers?
With FLoC, the "Federated Learning of Cohorts", Google provides a new solution approach. The browser determines the cohort that matches a user's surfing behavior most accurately and clusters the user with thousands of other people who show similar surfing behavior. This cohort can be targeted by ad tech companies and advertisers.
The common path towards the goal
With joined forces, the industry seems to be looking for a way to meet our privacy standards. Since the beginning of the Google initiative, members of the ad tech community have been actively involved in the development of the Privacy Sandbox to optimize the promising solution approach, including retargeting provider RTB House. Google Chrome already worked the extensive feedback from the industry into its designs.
While this all sounds promising at first, machine learning systems still struggle with these complicated and anonymized data sets. Companies like RTB House are already using technologies (e.g., in performance campaigns) that could make a significant contribution to solving this problem through "off-label use". This refers to Deep Learning algorithms that look for behavioral matches based on interest groups and cohorts. Deep learning is able to work with large, both complicated and unstructured data sets, allowing advertisers to play out content that is a good fit.
With the initiative around the Privacy Sandbox, the industry hopes for a data protection-compliant and up-to-date solution soon. What it will look like exactly remains to be seen.
About the author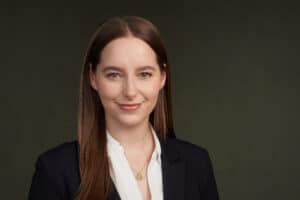 Junior Account Manager at HBI Helga Bailey GmbH – International PR & MarCom
Katharina Lopez-Diaz joined the HBI team in 2020 and supports clients in the sectors IT and security management, e-commerce and automotive software. Her focus is on PR, marketing campaign support and social media management.