Standing out from the crowd and playing out one's own advantages over the competition – in today's multimedia age, this is a goal that is becoming increasingly difficult to achieve. Particularly in the B2B sector, the monetary aspect of the service offered is often not the crucial factor. The decision on whether a company is a potential partner or not is rather based on its performance and expertise offered. One of the main arteries for companies to demonstrate these key qualifications is through thought leaders. They enable companies to communicate their qualities and expertise while demonstrating competence and self-confidence. It goes without saying that this term combines a large variety of other levels of meaning.
What is a thought leader?
In short, thought leaders are people or companies who can influence opinions through their expert status. In other words, they are exposed personalities from a company or even companies themselves who distinguish themselves through extraordinary technical competence and expertise within an industry, or who highlight a complexity of topics through their progressive and pioneering opinions. Thought leaders know their Circle of Competence and thus differentiate themselves as experts.
For a thought leader, this also means that answers to complex and trivial questions are just as little a problem as having the courage to address new topics and bring them into the focus of the masses. When it comes to the latter, innovative ideas and new approaches are decisive. Transporting these, on the other hand, is a complex task which content marketing can simplify along the way. To be in the center of public perception as a thought leader, it is essential to clearly and unmistakably demonstrate one's own expertise.
Read also: We establish you as a thought leader with the HBI Digital Executive Program
Why be a thought leader?
To successfully establish yourself as a thought leader in a specific field, time, research, and a lot of effort are required. Logically, such positioning is usually a time-consuming process. The goal of the entire endeavor is that individuals or companies who face a particular problem will turn to the innovative and functional work of the thought leader to solve their problem. Optimally, the thought leader is seen as a luminary in their specialty and is therefore the first choice when it comes to problems within that subject.
Consequently, this thought leadership holds a number of advantages for companies. Of course, the enterprise itself benefits from the thought leader's approaches. Besides, the company is perceived as a pioneer together with the respective thought leader and can thus innovatively shape its external perception. Newly acquired customers are more likely to turn to the thought leader within a particular industry than to rely on the common standard. Through the demonstrated expertise and innovative solutions, customer-side uncertainty is transformed into confidence.
Thought Leader vs. Influencer
Both thought leaders and influencers pursue the common overriding goal of convincing customers to make a purchase decision through the appearance of their own company. Hence, thought leaders are often referred to as B2B influencers. However, this assumption might be misleading, as there are essential differences between these two types of business advocates.
Even before the success of social media, there were already influencers existing in the form of celebrities who specifically used their reach and their image for advertising measures. Today, this situation has intensified in the sense that influencers have experienced an enormous rise through social media and can now be found in all market niches. During the process, they cover all target and interest groups. By contrast, thought leaders deal with problems and issues that affect a specific group of people over the long term.
Read also: Influencer Marketing – Advertising with Social Media Stars
Influencers do not require in-depth expertise and knowledge of the underlying subject matter. They can be used inter-industrial, regardless of their particular expertise. Nor do they owe their reach to their innovative ideas and expertise in solving far-reaching research questions, unlike thought leaders. While influencers are a tool that can be used almost at will, thought leaders are usually the spearhead of industry-specific innovation.
How to become a thought leader?
As indicated earlier, the road to becoming a thought leader can be an uneven one. In addition to extensive research, analysis and finding new strategies, a strong communications approach is required to achieve this goal. To successfully navigate the path to becoming a thought leader, PR and marketing must work closely together to develop a long-term communications strategy that is as sustainable as possible. Relying on a successful PR campaign is not enough to position oneself as a thought leader.
Marketing itself comprises many aspects, amongst others branding, inbound and content marketing, and it goes without saying that the appearance and content must be communicated correctly. By constantly accompanying the marketing of all steps taken, success can be achieved. At the same time, marketing should not be too aggressive and intrusive.
In addition to these important aspects, constant dialogue with the media and customers is not only crucial for establishing a thought leader but also for building a successful lead generation. The popular mistake of referencing one's achievements in a monologue-like manner should be avoided. In all undertakings, the target group that ultimately benefits from the thought leadership must be kept in mind.
Become a thought leader – the shortcut
The easiest and most sustainable way to become a thought leader is with the support of HBI's Digital Executive Program. Our team has mastered the synergy of PR and marketing, as more than 30 years of market experience impressively demonstrate. We do 90 percent of the work to build a successful social media presence and position you as a thought leader with your expertise and knowledge. All there is left for you to do is spend a few minutes daily on your profile to harness the momentum. And we do provide momentum.
Read more about our Digital Executive Program here and contact us without obligation. We look forward to developing your potential together with you!
About the author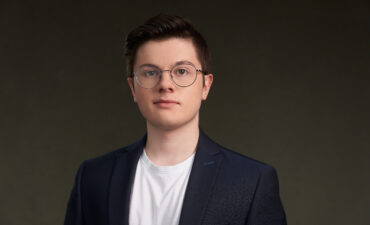 Marketing Assistant at HBI Helga Bailey GmbH – International PR & MarCom
Lukas Huber has been part of HBI's marketing team since 2020. As Marketing Assistant, his responsibilities include the development of marketing campaigns, social media management and the creation of specialized articles.