Electric cars have only been able to slowly expand their market share in recent years despite growth rates in new registrations of over 70 percent in some cases, but a trend reversal is now becoming apparent. The proportion of electric vehicles sold is increasing significantly and various alternative drive systems are gaining ground. This better be the case if the German government is to achieve the goals it has set itself: By 2030, ten million electric cars shall be on the roads in Germany and the roads supported by one million charging points. To make the aspiration a reality, however, it will take more than federal subsidies. In the end, the industry around eMobility must ensure that drivers everywhere have simple solutions for charging their vehicles wherever they are located. This may be the only way for the new technology to be adopted across the board.
Roaming networks to counter range anxiety
If as many drivers as possible are to switch to eMobility, they need to be assured that their electric car will not run out of juice on the road with no available charging point. There are numerous charging point operators on the market, of which each issues their own charging card, though. Does every driver now have to carry at least ten different cards in order to have access to the next charging point close by? Fortunately not.
Roaming networks offer the solution. These agreements allow electronic car drivers to use their charging card or app of one mobility service provider to access the numerous different operators' charging stations. As a result, drivers always have a charging point near them that they can use, and that without being a customer of the respective operator. Roaming networks therefore make a significant contribution to reducing range anxiety.
Smart solutions for a simplified charging experience
Another step toward increasing the acceptance of eMobility lies in easy-to-operate-and-manage charging solutions that even enable cost savings. With the help of vehicle-to-everything technology (V2X) interesting opportunities will arise in the future. This will allow electric cars to serve as electrical storage units – when needed, the energy stored in the batteries can be fed back into the power grid, the owner's own home or the office. In combination with online connected charging points that permanently monitor electricity prices, cost savings or even profits are possible – by charging the electronic car at times of low demand with low electricity prices and selling the energy back to the grid at higher prices at times of high demand.
Earning money with your own electric car is still a dream of the future. However, manufacturers of intelligent charging solutions are already offering electric car drivers and fleet operators solutions that make charging their own vehicles and managing their own charging infrastructure as easy as possible. For example, options for automatic refunding lower the reluctance to charge the electric company car at home. Manufacturers already offer an automatic reimbursement-program for incurred electricity costs to entrepreneurs, whose employees charge the company car at a home charging point.
Communicating sustainable solutions
For the nationwide successful switch to eMobility, two factors are particularly important: Electric car drivers must always have a charging point in their vicinity that they can actually use. To ensure this, there is no way around roaming agreements between the numerous charging point operators. In addition, intelligent charging solutions are needed that offer the simplest possible user experience and, at best, even cost savings for electric car drivers. Especially for operators of corporate fleets, there is also a variety of other solutions that facilitate the management of their own charging infrastructure and reduce the total cost of ownership.
Not all decision-makers are aware of the need to implement appropriate solutions. In many cases, the realization of full benefits is still a thing in the future. The emphasis when communicating such complex issues should therefore be based on raising the decision-makers' awareness of the overall-situation and how to address it today – in order to be ready for the future, when electric driving will be part of everyday life.
About the author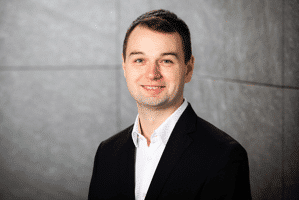 Junoir Account Manager at HBI Helga Bailey GmbH – International PR & MarCom
Markus Wild has been part of the HBI team since 2019 and is currently supporting customers in the e-commerce, HR, autonomous driving and e-mobility sector. He is specialized in text creation and the management of social media channels.