Digital Networking has become increasingly important, not only because of the personal contact restrictions during this crisis. Now is the chance to follow the trend by benefiting from social selling. Establishing yourself as a Thought Leader through a professional appearance on social media is the first step. Continuous activities on these platforms will increase the reach and will attract relevant contacts eventually. To make social selling even more successful, this approach can be linked to a company's inbound marketing strategy.
Its counterpart is outbound marketing. Traditional advertising measures such as print ads, TV- commercials and bulk emails are used to inform sales leads about USP's and product innovations. This kind of marketing is not as effective as it used to be prior to the digitalization of marketing. Target audiences are nowadays accustomed to having customized content delivered, so they often turn a blind eye on outbound activities.
Inbound marketing makes use of this development and is all about being discovered by the customers themselves who are attracted to a certain website by insightful and relevant content. For example, new content such as blog articles, newsletters or more detailed information about products and services can be created on a regular basis. Its benefit can be accrued by using an SEO strategy in order to be found more easily by search engines and as a result being distributed again on various channels, such as social media or Email-Marketing. This can be of essence because most customers start their buying process via a Google search.
A successful social media presence is another important component of inbound marketing. By distributing high-quality content on social media, it reaches potential customers and draws their attention to the company's products and services. This only succeeds through attention and awareness on company-side.
Focusing on your own expertise with social selling
Social selling is about identifying customers' needs through their behavior on social media. Activities of social media profiles reflect information about important topics and offer the chance to establish long-term connections with users. The focus of Social Selling is to build and expand B2B customer relationships through regular updates and articles based on the executive's expertise in their respective fields.
HBI's Digital Executive Program establishes executives as thought leaders and turns them into corporate influencers within their industry. We manage their social media accounts, create high-quality content, and offer suggestions for networking in their respective industries. In this way, we already helped numerous executives from well-known companies to optimize their social media presence, thereby skillfully using the advantages of social selling.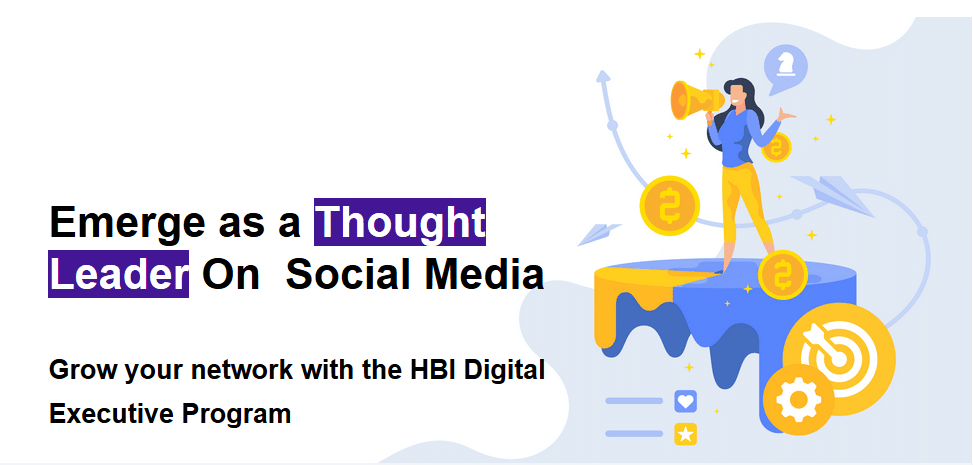 You might also be interested in: Social Selling – The most helpful tools for long-term customer loyalty
Through Inbound marketing, it is possible to establish or intensify contact with (potential) customers based on valuable content and provide first insights into services. Social selling picks up exactly at this point and allows sales leads to get in touch with the right contact persons.
Expanding the inbound marketing strategy through social selling
In the digital age, social platforms such as Twitter and LinkedIn are becoming increasingly important in the B2B world. Without a strong social media presence, important contact opportunities can easily be lost and may be taken over by competitors.
With a fitting strategy and experienced experts at your side, social selling promotes lead generation and keeps sales numbers skyrocketing. In addition, synergies are created through the combination of both, classic and inbound marketing activities. By having an expressive presence on social media plus the additional gained attention through inbound marketing, a larger audience is addressed, from which the company benefits directly.