In times of big data and data-driven marketing, vast amounts of data from different sources are obtained, stored, evaluated and used for strategic purposes every day. What at first glance appears to be something that can only be handled and implemented by large corporations is now increasingly being used by small and mid-sized companies. Especially in journalism and public relations, there exist new possibilities to evaluate datasets according to target groups and to find out about topics that your target group is interested in. Content and communication concepts can thus be used more precisely. Nowadays, you no longer have to conduct market research in order to obtain a large amount of data, because the data is already scattered online and can be collected and evaluated. Sounds interesting? We will show you how to convince your management of data-driven PR and which questions you should already have an answer to.
What is Data-Driven PR?
Data-driven PR is a form of public relations work in which the content of a company's press releases, event topics, newsletters, etc. is aligned with topics of interest to the target group. Specific topics and target groups are determined in advance by data analysis. By collecting, analyzing and evaluating data, topics and messages are distributed in a more targeted way than ever before. Topics missing the point and scattering are reduced and the ROI is increased. Nowadays, it is easier than ever to collect data without having to spend a lot of money on classical market research. One advantage of data-driven PR is that, compared to other methods, evaluations provide up-to-date data in real time. This allows you to react quickly to market situations and current trends.
Advantages of data-driven PR:
Up-to-date evaluation
Analysis of large amounts of data
Target group specific alignment of content
Reduction of scattering losses
Increase in return on investment (ROI)
How is the data collected?
One question that a company has to ask itself: How should the data be collected? The input for data-driven PR can't be obtained from a single source. We all generate data on a daily basis – from liking a post, sharing and commenting it, to the time spent on websites or articles of interest to the individual – which can then be used to create content. In addition, data is obtained from third-party providers or public sources. There are three different data sources:
1st Party – That is your company. By ordering on the website's online shop or downloading a whitepaper, data of your buyers and potential customers are collected. This allows you to see, for example, which items are currently popular. Trends can also be derived and buyer behavior can be studied. If a whitepaper is downloaded particularly often, it makes sense to go further into this topic through press releases, events or social media presence. You can also see trends in your CRM systems or the web browsing behavior of users.
2nd Party – This refers to data sets you generate with the help of third parties. Third parties are important for data-driven PR because they usually have the tools and capabilities to generate and manage data in a user-friendly way. Medium-sized companies often work with HubSpot or Google Analytics, but do not continue to use the data. But even here, useful information is collected. You can also use social media listing tools and data from web analytics software for your data-driven PR strategy.
3rd Party – Data is collected from third parties and the results are sold to companies as a service. This makes it easier for you to collect and evaluate your own data, but does not replace the previous methods. Third-party data is collected for a specific industry, area or topic.
Like a funnel, data is collected in a large funnel before it is aggregated, analyzed, and reused.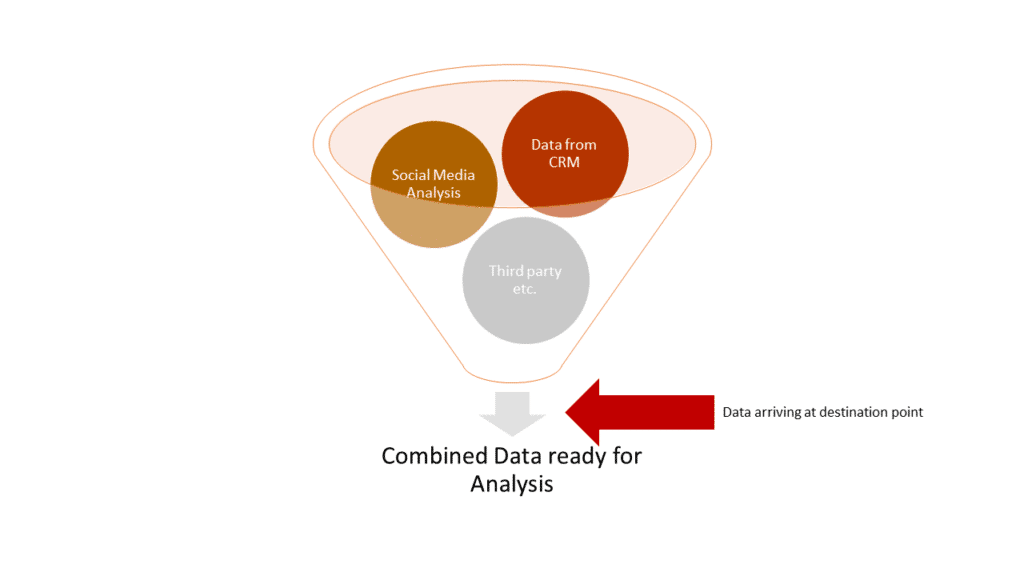 How do you analyze such large amounts of data for Data-Driven PR?
The first step has been taken. You have collected data from various sources. However, the management would like to know to what extent such large amounts of data should be analyzed in the company? The task here is to filter out information from the data volumes and derive useful findings. It is advisable to collect the data in your own company from the various sources mentioned above, summarize them and bring them into a uniform format. This makes it possible to classify and compare data.
Set up a place in the company where your data converges. This can be done by a contact person for data evaluation or a storage location. Through a contact point they collect the data from the entire organization at a central point and can be further processed from here.
How do we align our communication strategy on the basis of data?
The ultimate question that the management will ask is how exactly the company's strategy should be aligned with the help of data-driven PR. Often, companies are overwhelmed by the amount of data and have problems actually reading out opportunities from the collected data. At this point, it often makes sense to sit down with a suitable partner who can develop a strategy for your company on the basis of your wishes and goals as well as the compressed data. Based on these findings and in close consultation with the customer, HBI develops communication and online marketing concepts that are up-to-date and tailored to the market.
Conclusion
Data-driven PR revolutionizes public relations because content can be published in a target group-oriented and up-to-date way. Many companies do not use the data that is generated on a daily basis and are missing potential opportunities. With data-driven PR, the collected data is homogenized and analyzed. The analyses often result in behavioral patterns which you can use to align your PR strategy. As a data-driven PR agency based in Munich, we will be happy to get in touch with you and discuss ways of preparing data from your company and aligning it with your target groups.
About the Author