For a long time, PR and SEO measures went hand in hand, but were still strictly separated from each other. Nowadays, the merging of PR and SEO is increasingly coming to the foreground, as the SEO strength of a company can be sustainably strengthened by a clever digital PR strategy.
What is Digital PR?

Digital PR is basically hardly any different from conventional traditional public relations. The preceding activities, such as research, copywriting, and contact with the press, remain the same, except that in the end the article does not appear in print, but on the websites and/or social media channels of the respective publications.
Due to the global nature of the internet, digital PR opens up an even much broader target group – even beyond national borders. With digital PR, you primarily appeal to tech-savvy reader groups, which means you also lose a certain part of the target group. This is especially the case when it comes to niche areas that reach their readers almost exclusively by analog means.
The importance of digital PR can be seen in the number of Internet users. For example, in Germany alone, 91 percent of the population uses the Internet, according to Statista (as of 2021). This means that far more people can be reached than with conventional analog PR.
The great advantage of digital PR – apart from an enormous reach – also lies in the fact that every article that appears online also builds up the SEO strength of a company at the same time. This not only increases the digital reach for the company in the short term, but also strengthens its web presence in the long term.
You might also be interested in: How to Pitch… to journalists in the DACH market
Why is digital PR important for SEO?
Why is it that digitally published articles also strengthen SEO, but analog publications do not?
The reason for this lies in the fundamentals of search engine optimization. SEO describes strategies and tactics through which a website is found by the right target group and appears as high as possible in the search results of Google and Co.
For this to succeed, different criteria must be met: short loading times, keyword-optimized texts, etc. – and the website must be considered trustworthy by the search engine. Whether a website is trustworthy depends, among other things, on whether many other (preferably large and well-known) websites link to it. One then speaks of so-called backlinks.
If online magazines now regularly link to a company's website, it generates high-quality backlinks and gains importance in the eyes of the search engine.
However, it is important to note that many backlinks alone do not automatically elevate a website to 1st place in Google search. However, an already search engine optimized website can achieve the decisive breakthrough through high quality backlinks.
Digital PR in practice

Digital PR hardly differs from traditional PR, so many content formats can simply be adopted and published online. Media pitches, press releases, white papers, but also studies and surveys are very popular.
Which content format is best suited often depends on the situation, which is why it makes sense to seek advice from PR managers who already have experience with digital PR.
Interested in digital PR? Contact vibes@hbi.de and increase the reach and SEO strength of your company.
About the author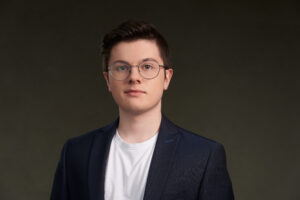 Marketing Advisor at HBI Helga Bailey GmbH – International PR & MarCom
Lukas Huber has been part of HBI's marketing team since 2020. As Marketing Advisor, his responsibilities include the development of marketing campaigns, social media management and the creation of specialized articles.