The digital world is known for its fast pace, with one trend chasing the next. In the previous years, we could observe certain topics manifesting themselves on social media platforms and other channels as so-called megatrends. Also the coming year will be characterized by significant currents. Anyone who now thinks they already know all there is to know about relevant developments, will be surprised by the outlook for 2022.
We take a look at the different trends that await us in 2022.
Communication Trends 2022 at a Glance
Virtual and offline activities will merge together even faster
Companies and consumers will focus increasingly on sustainability
Metaverse and virtual reality
Nano Communities
Content is getting shorter, more comprehensive and at the same time more audible
User Behavior influenced by the Pandemic
The past two years have clearly shown which impact a global pandemic exerts on user behavior. That is also reflected in the search queries on Google as well. If you take a look at what people looked for in 2021, the first trends become evident quickly.
The majority of people prefer a life outside the virtual world. Local shopping, joint travel plans, and social activities are gaining in popularity again. At the same time, a large group of people are maintaining their pandemic activities in the digital world. The result is an increasing connectivity between the analog and digital world which continue to grow into each other. This is particularly noticeable in the social realm. Indications of that are provided by new social media platforms such as the Bonn-based startup Real Note, in which content can only be viewed in the real world by using AR.
Furthermore, an increasing number of companies and consumers shift their focus on sustainability and the use of environmentally friendly resources. The aforementioned Google Trends Report 2021 states that more than 80 percent of users indicated that sustainability has become more important compared to pre-pandemic times.
Virtual Experiences and Digital Interactions
Through the Metaverse and remote work, people are now communicating digitally more than ever before – a development that appears to be taking root in our society for the long term. According to the Meta's annual trend report, the Metaverse in particular is rapidly gaining in popularity. On Instagram alone, people are talking about the hashtag #virtualreality up to 47 percent more often.
By spending more time on social media and in digital communities, so-called Nano Communities are emerging. Especially young people gather in forums such as Reddit to discuss niche topics.
Marketing managers should pay close attention to these subject matters and forums, especially against the background of social listening activities. Important insights revealing the interests of the target group can be gained here.
You might also be interested in: 5 Tips for Modern Marketing in the Metaverse
The future of content marketing
As already stated, young generations can be reached very efficiently via the Metaverse. Resulting from the popularity of AR and VR technologies, entirely new social media platforms are developing. Also, new trends can be seen in the current major social networks.
The principle of TikTok has caught on. Short, vertical videos in full-screen format are more popular than just graphics or long videos in a horizontal layout. The motto for success is to make the content as appealing as possible, meaning that the provided content can be consumed without great cognitive effort or energy expenditure.
Until now, the one supposed advantage of graphics was their soundlessness. Now auditory content is enjoying particular popularity. In addition to audiovisual content on TikTok and Instagram Reels, we see this development with podcasts as well, whose usage has grown rapidly in recent years.
You might also be interested in: Successful content marketing for better visibility
What are industry experts saying about communication trends in 2022?
In our first episode of Vibes TV, Christian Fabricius talked with leading experts from the communications industry about upcoming trends in 2022. International thought leaders from the PR and marketing industry discussed oncoming sustainable changes in 2022, the expected development of individual social media platforms, and what communications experts should look out for this year.
The full episode can be viewed here:
About the author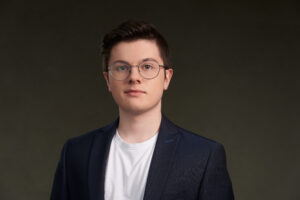 Marketing Assistant at HBI Helga Bailey GmbH – International PR & MarCom
Lukas Huber has been part of HBI's marketing team since 2020. As Marketing Assistant, his responsibilities include the development of marketing campaigns, social media management and the creation of specialized articles.
Image source: <a href='https://de.freepik.com/vektoren/menschen'>Menschen Vektor erstellt von pch.vector – de.freepik.com</a>