Last year, many things took a different course than initially anticipated. This also applied to four young PR talents from HBI, who planned to travel to Lisbon in May 2020. They were supposed to attend the Youth Meeting of the Worldcom Public Relations Group, where young professionals of the Worldcom partner agencies from the EMEA region meet every year in order to exchange ideas and work on a joint project. The meeting in May, however, was pandemic-related changed to September. Then another disappointment followed – travel and contact restrictions still prevented us from meeting in Portugal's capital. We now follow a different approach and are turning towards a digital version of the event. This will take place soon and we are already looking forward to it!
No time to lose – our joint project
Those ten months between May 2020 and February 2021 should not remain unused. Therefore, we have already started the project and set up a virtual meeting to discuss its results afterwards. Since the work of a public relations manager is based on the regular contact with journalists, we were also interested in how they are doing, what drives them and how their everyday lives have been affected by COVID-19.
Our goal was to investigate the impact of COVID-19 on journalism in Europe through a survey. To this end, we interviewed journalists from different fields and backgrounds about how the pandemic has affected their work and what is their take on the future media landscape.
The survey was sent to journalists located in 14 different countries [1] on October 1, 2020, with one month to respond. There were 454 participants in total.
Europe-wide survey shows: Editors worry about the future of journalism
The results were clear: Almost half (48.9 percent) of European journalists fear for their jobs. 16 percent even assume that the risk of losing their job is very high.
Less than one-third (32 percent) of journalists believe their readership had a strong interest in COVID-19 news from the beginning. While there was increased interest in February and March 2020, when the coronavirus first began spreading rapidly, demand for coverage of the topic has since lessened. Twenty-two percent of respondents said their audience's interest fluctuates, depending on the number of cases in a given country and whether further restrictions are put in place.
About three-quarters (75.6 percent) of the journalists surveyed believe that the world will not return to familiar ways of working after COVID-19. Pandemic-related changes in daily life (e.g. working from home) will most likely persist on a long-term basis. The "new normal" will likely stay with us also post-pandemic.
Because of the Europe-wide lockdowns, digital transformation was vital for the survival of many industries. The journalism and media industry were no different. Almost three quarters (73.3 percent) of respondents felt that the pandemic was a major setback for print media in particular. Although the transition from print to digital media had begun long before the pandemic – the consequences of COVID-19 have accelerated this momentum. More than 83 percent of journalists see online activities, social media and podcasts as well as online video content as the future of journalism.
In response to the rapid changes in the media landscape, many of the respondents feel the need to acquire new skills and educate themselves further. They also want to reach their audience on new channels. About 43 percent of respondents are continuing their education in the hopes of getting a new job or to work on a freelance basis.
What is the next step?
We do not want to deal with this topic just like a blog post. That is the reason why we will be expanding our upcoming Youth Meeting and include a digital roundtable with selected journalists to discuss the future of journalism in more detail and cover current developments in the communications industry. We are looking forward to the meeting and to becoming personally acquainted with other agencies and their young professionals – hopefully in person at some point, of course!
About The Worldcom Public Relations Group
The Worldcom Public Relations Group (Worldcom) is the world's leading partnership of independently owned public relations firms, with 143 offices employing some 2,000 staff in 115 cities across six continents. In total, Worldcom partners reported a combined revenue of US$288 million last year from 3,034 clients. Established in 1988, the group was formed so that the strongest, most capable independent firms could inspire direct action from stakeholders in a way that delivers immediate results and lasting outcomes – wherever in the world a client needs support.
Worldcom's partners deliver unique connectivity to their marketplace. This provides clients direct access to the audiences they most want to take action and to specialists that can deliver on challenging problems. As a result, strategies and campaigns see immediate reactions that turn into sustained audience actions. Partners serve national, international, and multinational clients while retaining the flexibility and client-service focus inherent in independent agencies. Through Worldcom, clients have on-demand access to in-depth communications expertise from professionals who understand the language, culture, and customs of the geographic areas in which they operate. Learn more about Worldcom at www.worldcomgroup.com.
[1] Belgium, Bulgaria, Czech Republic, France, Germany, Hungary, Ireland, Luxembourg, Netherlands, Portugal, Slovakia, South Africa, Spain, United Kingdom (South Africa was the only non-European country involved).
About the author
Annette Hermann
Junior Account Manager at HBI Helga Bailey GmbH – International PR & MarCom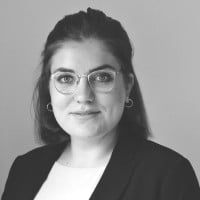 Annette Hermann has been part of the HBI team since June 2019 and is responsible for B2C and B2B customers. She is specialized in text creation and the support of social media channels.