How do posts reach their followers?
In Instagram's marketing world, there is an openly held relationship between influencers and companies. The purpose behind this: To promote the company's products. A separate advertising branch opens up, in which personalities known in the respective industry, such as fashion, cosmetics, sports, automobiles, are paid by companies for testing and/or advertising products. It is difficult for outsiders to understand which indicators are decisive when advertising products. That is why we break with this open relationship for a moment and look at the measurement figures in comparison.
What makes Instagram Posts successful?
With increasing user numbers, Instagram has become a unique phenomenon. People who were previously unknown were able to build an independent existence within the social network through a variety of characteristics. Even if the approaches used by influencers and companies to win the favor of followers differ, they are united by the key indicators of success. In this way, companies weigh up the chances of a marketing campaign and can carefully consider whether the investment in booking an influencer is really worthwhile. But how exactly does that work?
The mechanism behind Instagram Engagement
The term Engagement Rate describes the relationship between an Instagram account and its followers. Behind this is a simple mathematical calculation that has to be calculated per contribution. You add the likes and comments of a post and divide them by the number of followers of the user. This excludes inactive or purchased accounts that are registered as followers but do not interact. It is not advisable to examine a single post, as outliers can be represented especially in times of viral hits. Contributions that are shared by various social media channels, and thus reach a wider audience, play a role in the interaction rate, especially among users with small numbers of followers. If the post of a user with 5,000 followers is clicked and commented on about 5,000 times, this corresponds to an engagement rate of 100 percent. For large influencers and brands with several million followers, this commitment rate is unattainable; values around 5 percent are considered excellent results. For comparison: The average interaction rate on Facebook and Twitter is 0.007% (Facebook) and 0.03% (Twitter).
Special software and tools provide other important indicators for Instagram accounts. Organic reach, for example, is the number of users you can reach only through your Instagram account. Since the extension of the Instagram algorithm, the feed not only displays posts from pages you follow, but also posts that are attributed to you based on your own usage behavior. This is interesting for companies as well as for influencers, who can reach potential customers or other followers more easily.
Indicators of successful Instagram campaigns
Ultimately, however, the subjective point of view is the decisive criterion as to whether a post reaches its audience. Users follow Instagram pages because it fits their interests and desires, and they give likes or buy products based on an emotional relationship. Disney demonstrates this vividly, and Instagram also does justice to their reputation as a place where dreams come true. GIFs or movie trailers are far more popular than mere posters.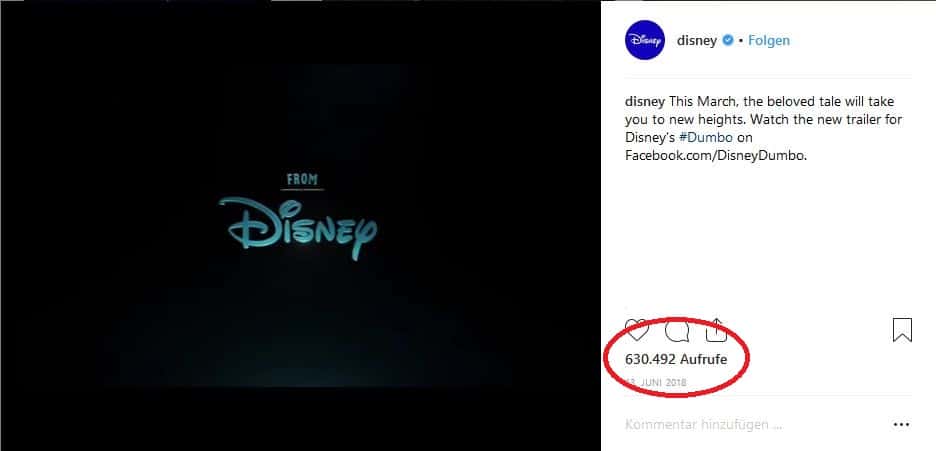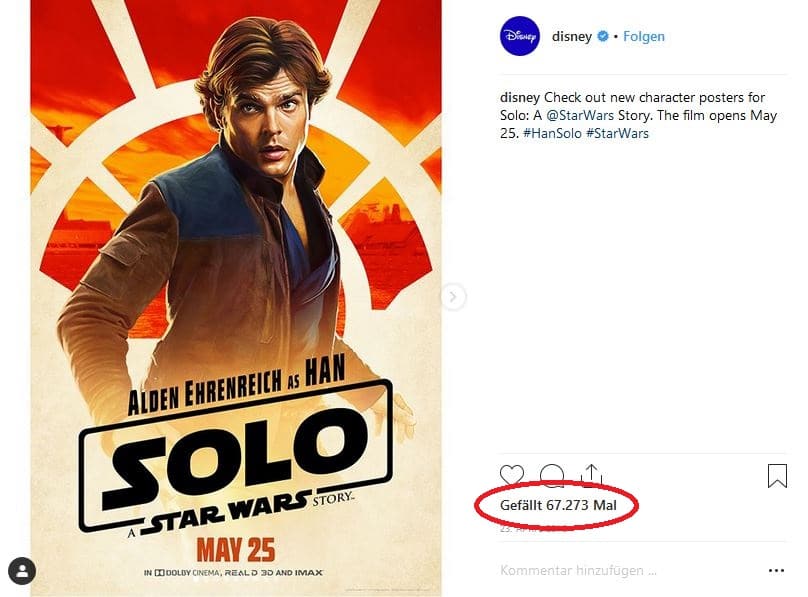 The interaction rate of the trailer is almost ten times higher than the rate of the poster and it underlines the problem of comparability mentioned above. In a final analysis of the marketing campaign, it must be analyzed whether the interaction rate of the trailer has really led to an increase in cinema visits.
Synergy on Instagram
In Germany, the trend of "account takeovers" has established itself as a form of cooperation between companies and influencers – in addition to the classic advertising campaign. For a certain period of time, the influencer takes over the company's account and interacts with the users. The interaction rates are particularly high if the announcement on the company side is linked to the YouTube channel of the influencer. This creates synergies with benefits for both sides. In addition, give-aways, for which users have to upload a picture matching the topic in order to win something, have particularly high interaction rates. The lower the participation threshold, the more participants take part in the raffle. Every Instagram user for example has a vacation picture on their smartphone ("link a picture of your last journey") or is able to distort their faces by filters to a funny grimace.
Findings from past campaigns
Like every brand, successful campaigns have something unique about them. They hit an emotional nerve, are high-quality produced and live from charismatic personalities. Whether a successful marketing campaign always results in rising revenues is another question. As shown above, the success of a marketing campaign can be measured by high interaction rates or increasing organic reach. Competition for advertisers is becoming tougher as a result of rising user numbers and the resulting higher number of posts. A successful campaign needs to integrate the users into the campaign to touch them emotionally.