Internal communication in companies is a science of its own. The concept seems simple: A group of people working together to achieve one or several goals for a company. However, there are often difficulties that arise which make it harder to achieve the goal. Due to transmission errors, whether technical or human, information can get lost, misinterpreted, or incorrectly implemented.
If you have not yet given much thought to this topic yet, you will certainly notice these factors now as the COVID-19 virus has greatly impacted the workforce, causing great challenges for companies and their internal communications. Due to the lack of personal dialogue in the office, the communication chains become longer stretched and more sensitive to misinterpretations. Especially during this time, a structured approach for your internal communication concept is essential.
Why is crisis PR essential for your company? Read here.
As communication experts, we want to share some approaches with you that improve communication in companies and explain why it is important.
What is communication and where do errors arise?
Human communication can be explained most easily with the four-sides or the four-ears model. The model is based on the assumption that the sending and receiving of messages always takes place on four levels. The person who communicates does this on four levels: factual information, relationship, self-revelation, and appeal. The person who receives the message also does so on these four levels. However, since the levels vary individually, the intention of the communicated message can be interpreted differently – like a radio with poor reception.
Factual information: What is the message?
Relationship: What is the relationship between the persons communicating?
Self-revelation: What is revealed about yourself (feelings, values, views)?
Appeal: What do you want to achieve/communicate?

Tasks and objectives of internal communication in companies
To ensure that internal communication runs smoothly, companies need to define tasks and goals. On this basis, you can work out measures on how to achieve these goals most effectively.
The fundamental task of internal communication is to ensure the smooth flow of information. This may be on a technical level – for example by setting up an intranet – or interpersonal. Shortening communication processes is also in the interest of every company. Through successful communication, companies are more reactive, which in the end enables them to handle customer needs faster.
It is important to set goals in advance which you want to achieve with internal communication. Concrete goals can be activities to defuse conflicts that have already arisen among employees or to prevent them.
Successful internal communication also has the goal of providing transparency in the company through an open dialogue. If uncertainties are directly addressed and defused, this will lead to less uncertainty among employees.
Internal communication also aims to stimulate new ideas. Successful communication gives employees a certain sense of belonging. In addition, creative ideas and new approaches to solutions can be expressed more easily and all employees can be involved.
Measures to improve internal communication
To improve internal communication, there are numerous measures and communication channels that can be used, depending on the size of the company, budget, and goals. A successful approach is always a mixture of long and short-term activities.
Intranet, news board, or employee magazine as communication channels
Large companies often use employee magazines to communicate news about the company. On a smaller scale, the intranet or the traditional message board in the office can be used to spread news. No matter which measures you pick for your company, the goal is the same: to inform employees. To remain transparent and create a sense of community, the intranet and chat platforms are good ways to keep employees informed. Above all, these tools are also ideal for official statements from the management, news from individual departments, or as a knowledge database with useful tips on a wide range of topics.
Training courses / further education / de-escalation training
During training courses, further educations, and de-escalation trainings, employees learn values and competencies that are important to the company. In case that employees have a dispute with another employee and working together is no longer possible, a de-escalation training can be useful.
Implementation of chats and feedback surveys
If one of your goals is to shorten communication processes, tools like chats and regular feedback surveys are an effective tool. In many companies, chats are already an established part of internal communication. The formal etiquette is lower than with traditional e-mails. Small matters can be dealt with more quickly, which saves time within the entire process. Anonymized feedback surveys are also a way of checking employee satisfaction regularly and, if necessary, making quick adjustments to the systems if they prove necessary.
Deg, R. Basiswissen Public Relations – Professionelle Presse- und Öffentlichkeitsarbeit, 6th edition 2017, Rosdorf.
Internal communication in times of home office and crises
Currently, the spread of COVID-19 is responsible for many companies allowing their employees to work from home. Internal communication can suffer as a result, because familiar dealings with colleagues or short verbal agreements are no longer possible. In this case, management can take measures to promote and maintain communication. Virtual 'Coffee Meetings' can be an opportunity to talk to colleagues beyond email. The focus here is on informal exchange. Similar to the coffee kitchen, employees can log in and talk in a video chat window. During these times, we recommend to arrange update calls for teams or departments regularly. These video conferences are usually held by the management. They provide information about current facts, developments, and general news in the company.
Internal communication is customized
It depends on the company which methods of internal communication are suitable. You need to communicate information openly to maintain a good working atmosphere and ensure internal communication that fits best for your company. This also includes the mention of certain topics that can be sometimes unpleasant but nevertheless opens discussions that allow critical information to be shared. Tools such as chats, intranet use, or meetings are additional ways to shorten or simplify communication channels. Employees contribute to the image and public reputation of the company, which is why a smooth workflow is in the interest of every company.
Would you like to learn more about our services? Click here.
About the Author
Melanie Kehl
Marketing Assistant at HBI Helga Bailey GmbH – International PR & MarCom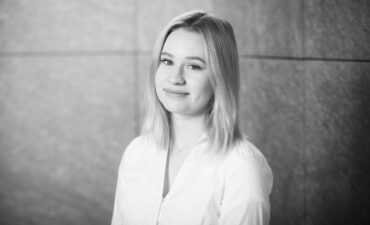 Melanie Kehl has been in charge of HBI's internal marketing activities since 2017. As a student in the field of online marketing, she is responsible for the implementation of SEA and SEO campaigns, setting up landing pages and writing articles.