Due to the ongoing digitalization, companies are increasingly adapting their services to the needs of online shoppers. Digital advertising measures are also being used more frequently nowadays, as this allows companies to address their target groups directly. When it comes to brand management, digitalization simplifies communication with customers, direct sale by click, and the tracking of important consumer data. In addition to the advantages of digitalization, however, there is also a downside that endangers the so-called brand safety of a company.
Brand safety has become a top priority on the agenda of brand managers, as they are responsible for securing corporate values and the image of a company. A wrong or not well thought-out approach regarding brand safety can quickly have negative effects.
In this article, we explain why brand safety affects every company and we give tips on how to best maintain it.
You might be interested in this topic as well: Seven ways to revolutionize your crisis PR
Brand safety in the digital sector
When placing online advertisements a few years ago, it was mainly the achieved impressions that mattered. Today, marketers are focusing more on key figures such as visibility and brand safety.
Brand safety covers measures that ensure that advertising is displayed on trustworthy web platforms. This is intended to prevent that advertisements appear on dubious websites and to prevent a possible negative image transfer.
Brand safety refers to the placement of advertising campaigns in online advertising environments that are both legally and brand compliant.
Non-branded environments include platforms with:
Adware und Malware
Content that does not correlate with the company's corporate philosophy
Political and religiously controversial content
Pornographic content
The goal of brand safety is to deliver your marketing message in a moral, ethical, and target group-oriented environment.
Brand safety as an overall strategic approach
Although brand safety is generally seen on a digital level, protecting one's reputation and securing the company's values goes far beyond the online world. Brand managers need to define which advertising measures are suitable for the company and whether any actions are not in line with the company's views and values.
Brand safety does not only cover the online advertising sector, but is also part of the overall strategic challenges in a company. Before defining which online platforms are suitable as advertising media, it is necessary to define the values that the company stands for to pursue a consistent online and offline advertising presence.
Consistency and continuity are important to ensure brand safety. Both should help to make sure that the recognition of the brand identity is not distorted.
How do I ensure my brand safety?
To secure brand safety in companies and to place advertising in suitable media outlets, you have to define risk criteria for your company. The support of an agency with an external view can be helpful here.
ABC planning can help to define the best way to ensure brand safety.
ABC planning defines the overlap between the factors:
– Audience Insights: Everything that defines the target group. Who is my target group and where is it located?
– Brand Insights: The most relevant marketing identity characteristics. What do we want to achieve? What does my brand stand for?
– Context Insights: Definition of the individual advertising campaigns – when and where should my ad be placed?
From this overlap, you can define your customer touchpoints. These touchpoints serve as assistance for a targeted brand and communication planning.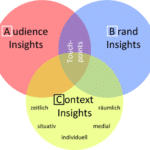 Source: Digitales Marketing – Erfolgsmodelle aus der Praxis
Guarantee your brand safety at all company levels
Guarantee your brand safety at all company levels
While it is easy to control the time and place of advertisements for offline measures, it is more difficult to control it online. To prevent your advertising from appearing on platforms that do not fit with the company's philosophy, or even to prevent damage to the company's image, creating blacklists are a good way. Blacklists are lists of specific sites on which your ads should not appear. When maintaining blacklists, it is necessary to keep them updated as changes to the pages make it possible that the links in the lists become obsolete.
Is brand safety a topic that concerns you?
Brand safety affects every company both online and offline. Especially the placement of advertisements on inappropriate websites not only leads to an unnecessarily large loss of potential leads, it can also damage the company's reputation and the brand.
That is why it is essential to take measures and make decisions in consideration of brand safety to minimize any potential risks.
About the Author
Melanie Kehl
Marketing Assistant at HBI Helga Bailey GmbH – International PR & MarCom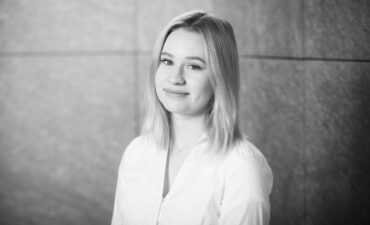 Melanie Kehl has been in charge of HBI's internal marketing activities since 2017. As a student in the field of online marketing, she is responsible for the implementation of SEA and SEO campaigns, setting up landing pages and writing articles.