When you think about start-ups, you imagine young people working night shifts in garages developing highly innovative solutions. Even though this sounds very stereotypical, there is a lot of truth behind it. In most cases, a start-up is based on an innovative idea and limited financial resources. By definition, start-ups are young and not yet established companies that are founded with little seed capital to implement an innovative business idea (often in the fields of electronic business, communication technology or life sciences).
Popular industries, locations and financing for start-ups
Last year, the most popular start-up industry was IT/Software development. Areas such as software-as-a-service and industrial technology also remain the most popular areas for new businesses.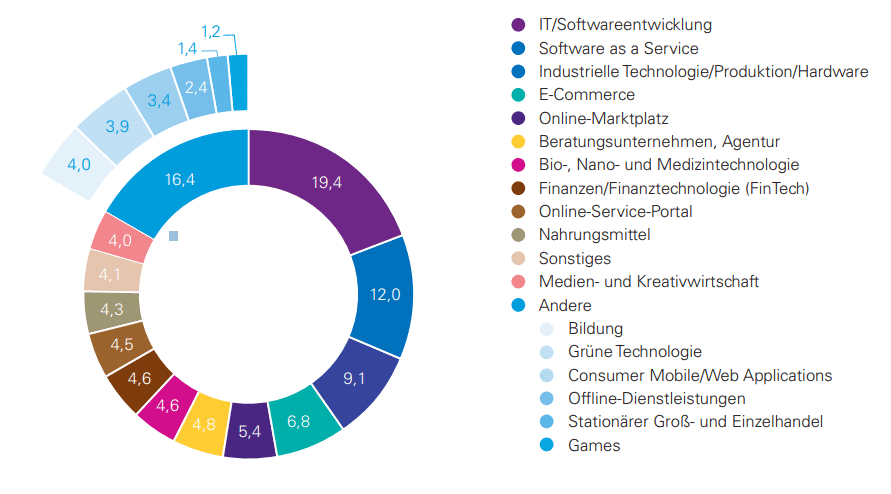 A special characteristic of the German start-up market is that over half of all start-ups come from one of six regions: Berlin, Hamburg, Hanover/Oldenburg, Rhine-Ruhr metropolitan region, Stuttgart/Karlsruhe and Munich are Germany's hotspots for start-ups. Three quarters of start-ups stay within their home area after a relocation.
Most start-ups in Germany finance their business ideas out of their own pockets – over 80 percent use their own savings. Less than 35 percent receive state subsidies and only 14 percent finance themselves through a traditional bank loan.
Financing & Founders of Start-ups
Unlike the stereotypes of college dropouts like Bill Gates and Steve Jobs, most start-up founders have a university degree. In total, the share is 81 percent. Almost half of them have a diploma or a master's degree. The most popular field of study is business administration or economics with about 37 percent. Only a little over 20 percent have studied computer science or mathematics.
The vast majority of start-up founders are male. In 2017, more than 85 percent of all founders in Germany were men. Especially in start-ups, female founders are rare. In comparison: In 2016, 40 percent of all company founders were women.
Success stories of German start-ups
Many German start-ups show how well it can work out. Flixbus is one of the most successful examples. Flixbus was founded by three young entrepreneurs in Munich in 2013. The company has transported more than 100 million passengers to 1,700 destinations in 28 countries until now. relayr delivers another success story: The Berlin Internet of Things start-up received almost 100 million euro from investors – including 30 million from Deutsche Telekom. The software company which connects industrial equipment has grown massively since its foundation in spring 2013. The reasons for this include the takeovers of the software company Proximetry and the AI start-up Neokami. This year, the number of employees is said to increase from 200 to 300.
Unsuccessful start-ups
Unfortunately, not all stories of start-ups end well. But what distinguishes the success stories from those that fail? It is almost always a combination of several factors. According to the data service CB Insights, the most common reason is the lack of demand. 42 percent of respondents said they didn't spend enough time talking to the target group and also released new features they liked but weren't requested by the customer. Most products from failed start-ups were good in general, but did not solve any problems or were not needed urgently enough. At some point, many start-ups also ran out of money. Nearly 30 percent stated that too little capital was the cause of their failure. According to a Bitkom study, start-ups lack an average of 2.2 million euros in capital. Only three out of ten companies have secured their financing. Contrary to this, 85 percent of them expect to raise the necessary capital. Some start-ups also failed due to poor teamwork. Too many different opinions, especially at the beginning of a foundation, can be fatal.
Future tasks for start-ups
A current challenge that many start-ups face is finding suitable employees. According to a recent study, six out of ten start-ups have open vacancies. More than half have already experienced that a position could not be filled because no suitable candidate was found. This is mainly due to the lack of IT specialists in Germany. The few job seekers are presented with a large number of companies looking for employees. Start-ups often cannot compete with large companies on the labor market that can pay a much higher salary. Furthermore, recruiting employees from abroad is not as easy as you might think. Bureaucratic hurdles before and after hiring foreigners prevent many start-ups from finding suitable employees from abroad. The language barrier additionally confronts founders with great challenges. Especially in start-ups where you normally work in small teams (besides the founders on average 11 employees), the skills of each employee counts.
Even if founding a start-up involves many challenges and risks, it is an opportunity to create something new based on your own idea and to implement your vision in your way. Many people dream about being their own boss and having the freedom to organize their work independently. Start-up founders try to pursue this dream according to the motto "Nothing ventured, nothing gained".
About the Author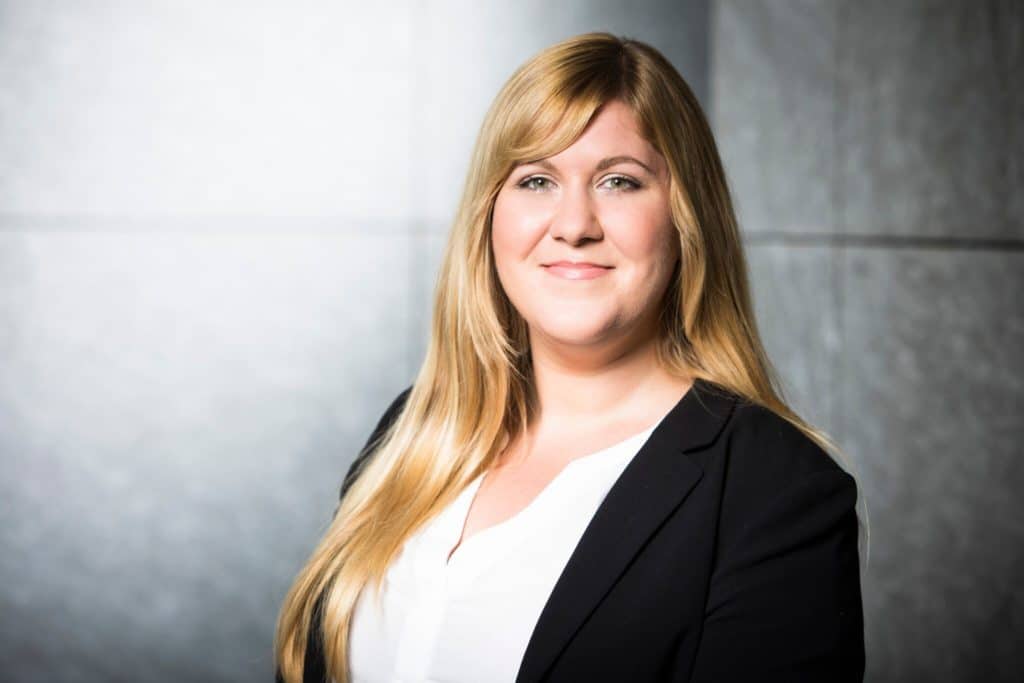 Christine Gierlich
Account Manager at HBI Helga Bailey GmbH – International PR & MarCom
Christine Gierlich has been serving B2C and B2B clients since 2016 and is specialized on social media, content creation and the development of PR campaigns. She is also part of HBI's marketing team and responsible for internal marketing activities.